Sunday, October 14, 2012
Posted by

Camelia
at 7:51 PM
No comments:

Saturday, October 13, 2012
List of New Age music artists
A



Philip Aaberg – pianist

William Ackerman – guitarist

Adiemus – band

Azam Ali - singer, songwriter

Alpha Wave Movement – composer, synthesizer music

Amethystium – band

Darol Anger - violinist, composer

Anugama

David Arkenstone – composer

Diane Arkenstone – composer, pianist, keyboardist

Armik – flamenco guitarist

James Asher – composer, percussionist

Can Atilla – (pianist, songwriter, violinist)

Australis – composer, producer, electronic New Age

Paul Avgerinos – composer, producer, Ambient New Age

Ayana - singer, songwriter

Sara Ayers

Anaya Music - composer, producer, guitarist, keyboardist, singer, arranger



B



B-Tribe - a Spanish trio

Bandari

Emily Bear - pianist, composer

Hennie Bekker – pianist, composer

Benise (Roni Benise) – flamenco guitarist

Biddu - Vocalist, Music Producer

Tim Blake – keyboardist

Blue Stone – composer, band

Moya Brennan - composer, singer

Thom Brennan – composer

Jim Brickman – pianist

Sarah Brightman

Javier Ramon Brito – composer

Markus Burger – pianist, composer

Richard Burmer – composer, keyboardist

Ray Buttigieg – composer



C



Celtic Woman - band

Wendy Carlos – composer, keyboardist

Stephen Caudel - composer, guitarist, keyboardist, arranger

Ceredwen – duo

Checkfield - duo, composer, guitarist, keyboardist

Sheila Chandra

Craig Chaquico – guitarist

Suzanne Ciani – composer, pianist

Clannad – band

Michael Colina – composer, producer, pianist, keyboardist, engineer.

Al Conti – composer, pianist, keyboardist

Jesse Cook – flamenco guitarist

Randy and Pamela Copus – duo known as 2002

Coyote Oldman – band

Cusco – band



D



Dadawa

Scott D. Davis – pianist, composer

Peter Davison (composer) - Composer, TV/film composer

Deep Forest – band

Delerium

Constance Demby - composer, multi instrumentalist

Deuter – composer, multi instrumentalist

Thomas Di Leva – Singer, guitarist, keyboardist, harmonica, drummer, peace activist, composer

Julius Dobos – composer, film composer

Suzanne Doucet – composer, multi instrumentalist

Catherine Duc – composer, pianist/keyboardist

Dinesh Subasinghe-composer,violinist,Ancient Ravanahatha performer,Multi instrumentalist ,Tv/film composer

Kyle Bobby Dunn - composer, arranger, performer

Chinmaya Dunster – sarod



E



Ludovico Einaudi - composer/pianist

Levente Egry – Composer, pianist

Enigma – musical project by Michael Cretu

Enya – singer, composer (however Enya herself is on record as not considering her music to be of the New Age genre.)

Era – musical project

Esteban

Dean Evenson – flautist, keyboardist, composer



F



Ryan Farish - composer, multi-instrumentalist

Larry Fast

Alex Fox – flamenco guitarist

Christopher Franke – keyboardist

Eloy Fritsch – composer

Edgar Froese – composer, guitarist, keyboardist



G



Peter Gabriel

Gandalf – composer, multi instrumentalist

Lisa Gerrard

Philip Glass – composer, pianist, keyboardist

Medwyn Goodall – multi-instrumentalist, composer, producer

David & Steve Gordon

Govi – composer, multi instrumentalist

Francis Goya – guitarist

Gregorian – band

Nicholas Gunn - flautist, multi-instrumentalist, recording artist, composer, producer



H



John Hackett – composer, flute player and member of Symbiosis

Jean Ven Robert Hal – composer, synthesizer player, keyboarder

Michael Allen Harrison – composer, pianist, song writer

Fiona Joy Hawkins – pianist

Michael Hedges – composer, guitarist

Barbara Higbie - pianist, violinist, composer, singer, song writer

Steve Hillage

Himekami

Joe Hisaishi – composer, pianist

Michael Hoppé – composer

Paul Horn, flautist

James Horner – film music composer

Yoshiaki Hoshi – composer, synthesizer player, and founder of the group Himekami



I



Isadar - pianist, composer, singer, song writer



J



Steve Jansen – composer, drummer, keyboardist

Jean Michel Jarre – composer

Karl Jenkins - composer

Theo Jörgensmann – composer, basset clarinetist

Bradley Joseph – composer, pianist, keyboardist

William Joseph - Pianist, Composer

Prem Joshua – Composer



K



Karunesh – composer

Peter Kater

Paul Kenny – Australian composer, pianist, music educator

Kevin Kern – composer, pianist

Al Gromer Khan – composer, sitar player

Sandeep Khurana – composer, songwriter

Kitarō – composer

Bernward Koch - pianist, composer

Kokin Gumi - music group

Darlene Koldenhoven – Grammy Winning Vocalist/Keyboardist/Songwriter

Tetsuya Komuro – composer, pianist

Andrei Krylov – composer, guitarist, keyboardist, flutist



L



Lara & Reyes (Sergio Lara and Joe Reyes) – flamenco guitarists

Fariborz Lachini – composer, pianist

David Lanz – composer, pianist

Raimond Lap – composer, pianist

Lesiëm

Lia – singer, songwriter

Ottmar Liebert – flamenco guitarist

Life In Balance – musical duo

Johannes Linstead – flamenco guitarist

Liquid Tension Experiment – group, composers

Lorie Line – composer, pianist

Helen Jane Long – composer/pianist

Oscar Lopez – flamenco guitarist

Ray Lynch – composer, musician, producer (Lynch states that his music doesn't fit into established categories, so it tends to be thrown into the melting pot of the New Age genre.)

Lisa Lynne – composer, harpist



M



Mannheim Steamroller – group (Leader Chip Davis)

Michael Manring – electric bassist, composer

Catya Maré – (songwriter, violinist)

Giovanni Marradi – pianist, composer

Keiko Matsui – pianist

Lyle Mays – composer, pianist

Paul McCandless – composer, wood wind player

Loreena McKennitt – singer, musician, composer, producer

Pat Metheny – composer, guitarist, band leader

Stephan Micus – composer, multi-instrumentalist, singer

Miten

Mithoon – film composer

Robert ÆOLUS Myers – composer, performer, producer



N



Nightnoise

Michael Nyman – composer



O



Patrick O'Hearn – keyboardist, composer

Mike Oldfield – composer, guitarist

Terry Oldfield – composer

Opafire – musical project

Oregon - ethenic jazz band Ralph Towner (leader)

Jeff Oster – flugelhorn, trumpet,composer

Thomas Otten



P



Alan Parsons Project – progressive pop/rock band - leader Alan Parsons

Proyecto Oniric – Pianist, composer.

Jeff Pearce – guitar and Chapman Stick

Deva Premal – musician and singer



R



Jorge Reyes – Mexican ethnic fusions

Rippingtons – smooth jazz band

Lawson Rollins – flamenco guitarist



S



Ryuichi Sakamoto – composer, pianist

Bruno Sanfilippo – musician composer

Carlos Santana – Latin guitarist

Jon Schmidt – pianist, composer

Klaus Schulze – keyboardist, composer, drummer (note that Schulze himself has always denied connections to this genre)

Secret Garden – duo

Jonn Serrie

Shadowfax

Shahin & Sepehr (Shahin Shahida and Sepehr Haddad) – flamenco guitarists

Dechen Shak-Dagsay – vocalist

Ananda Shankar - musician

Oliver Shanti & Friends – band

Rabbi Shergill – singer, songwriter, guitarist

Yoko Shimomura – composer, pianist

Michael Shrieve

Manose Singh – bansuri flute

Montana Skies – cello, guitar

Cadence Spalding – singer, composer

Chris Spheeris – composer

Jeremy Soule – composer

Stewart St. John – composer, pianist, multi instrumentalist; channels sound and music

Gary Stadler – recording artist

Michael Stearns – composer, keyboardist

Liz Story - pianist, composer

Strunz & Farah (Jorge Strunz and Ardeshir Farah) – flamenco guitarists

Andy Summers – composer, guitarist

David Sylvian – composer, guitarist, keyboardist

Symbian – ambient music band

Symbiosis – band (UK)

Sythe (Sythe Cameron) - Composer, Musician, Instrumentalist



T



Tangerine Dream – band

John Tesh- pianist, composer

Robert Scott Thompson – composer, recording artist (Only some works might be considered New Age.)

Isao Tomita – composer, keyboardist

Toshi – vocalist, ex-lead singer of Japanese metal band X Japan

Kathryn Toyama – composer and pianist



U



Nobuo Uematsu – composer



V



Vangelis – composer

Rondò Veneziano – chamber orchestra

Luis Villegas – flamenco guitarist

Andreas Vollenweider – harpist, composer



W



Billy Joe Walker, Jr. — guitarist

Rick Wakeman – keyboardist, composer

Wavestar – band

Simon Webb

Hayley Westenra – vocals, piano, violin, guitar

Stuart Wilde – producer, lyricist

Willie and Lobo (Willie Royal and Wolfgang "Lobo" Fink) – flamenco duo (guitar & violin)

George Winston – pianist

Paul Winter – world/jazz musician, soprano saxophonist, composer, pioneer of new age music, founder of living music

Erik Wøllo – composer, guitarist

David Wright – keyboardist, composer



Y



Akira Yamaoka – Composer, Producer

Yanni – composer, pianist, keyboardist

Yiruma – composer, pianist, producer

David Young – composer, flautist

Young & Rollins (Dan Young and Lawson Rollins) – flamenco guitarists



Z



Gheorghe Zamfir – pan flute

Zamora - Composer, pianist, keyboardist

Hans Zimmer – composer

Zingaia

Ralph Zurmühle – composer, pianist

http://en.wikipedia.org/wiki/List_of_New_Age_music_artists
Posted by

Camelia
at 8:21 PM
No comments:

Labels: arranger, band, camelia camy, composer, cosmic, ecofren cosmic blog, energy, guitarist, keyboardist, music artist, new age, pianist, singer, synthesuzer music
THE NEW AGE
By Roger Ebert / September 23, 1994
http://www.ebertfest.com/twelve/thenewage.html
"That's what we're good at - shopping and talking." - Dialogue from "The New Age"
The New Age Movie
Peter and Katherine Witner are conduits for vast amounts of money, which flow from their extravagant Beverly Hills salaries into the hands of the people they buy their lifestyle from. They live in a designer house with walls covered by "important" paintings, and their friends are as wealthy as themselves. Their personalities are made out of psychobabble and arrogance; they are obsessed with their toys, but, hey, you're okay, I'm okay, and that's okay.
Then one day they both find themselves out of work, with only enough cash in the bank to finance about 30 more days of opulence before the whole structure of their lives comes crashing down. "The New Age," Michael Tolkin's film about their dilemma, is a satire, but it avoids making them into easy targets. They're too vulnerable to really dislike; without their credit cards, they're like Boy Scouts without any way to start a campfire.
Tolkin knows the world of Peter and Katherine from the inside out, as he showed in his screenplay for "The Player," another X-ray of the lifestyles of the rich and famous. "The New Age" also has something in common with the 1992 film Tolkin wrote and directed, "The Rapture." It shows his characters caught up in the search for quick spiritual fixes. As their bank account shrinks, the Witners (played with frightening accuracy by Peter Weller and Judy Davis) turn to a series of gurus whose prescriptions run from meditation in the desert to all-night pool orgies.
This need to believe in something is almost required by the hedonistic lifestyles of the characters. While many spiritual programs advocate humility, the New Age beliefs of the Witners allow them to star as the objects of their own worship. If you feel right about yourself, if you think positive, if you send out the right aura, then success, of course, will come to you. The catch is that failure and poverty are therefore somehow your own fault, too.
At one point in the movie, the Witners are encouraged to get in touch with their own fears, and Peter utters a classic line: "I know what I fear the most. Having to work to make money." But work they do. The Witners pool their diminishing savings and borrow money to open a trendy boutique. One of their gurus (played by the droll voluptuary Patrick Bauchau) stands in the center of the empty storefront, tuning in to the space, before advising them where to place the dressing room. Opening night is a great party, but soon the store is failing, and the few customers who do wander in are not much encouraged by the Witners' increasingly bizarre adaptation to the world of retail.
Tolkin gives us one richly detailed set piece after another, involving luncheons, openings, massages, telephone tag, psychic consultations, sex, heartfelt conversation, and pagan rituals led by a bald-headed woman who sees what others cannot see. Meanwhile, the material universe remains the one thing Peter and Katherine can really count on. This is the kind of movie where ancient Chinese sayings can find themselves in the same conversation with co-dependency.
For the Witners, everything centers on themselves. "We were born when the economy was expanding," Peter says. But now that it's contracting, there's no room for people who consider their jobs primarily as a source of money to finance their "real" lives. Down and down they go, the Witners, auctioning their important paintings, losing their house and their cars, failing at business, all the time looking for spiritual fixes, as they wander through the New Age supermarket of Southern California. It's as if they have a disease named Overdrawn. One former friend of Katherine is frank about why she didn't invite them to her latest party: It makes people uncomfortable to be around failure.
The ending of the movie is perhaps a bit too manipulative.
Maybe not. Tolkin is a director who is not afraid to push stories to their limits, and the final situation in which the Witners find themselves is one which was a real possibility right from the first.
What's best about the movie is that Peter and Katherine are so smart.
They understand everything that's happening, they're articulate, sardonic, witty and savage about it, and yet there's not much they can do. "The reason you keep falling," one spiritual adviser explains to them, "is because there's no bottom." Thanks a whole lot.
Cast & Credits
Peter Witner: Peter Weller
Katherine Witner: Judy Davis
Jean Levy: Patrick Bauchau
Sarah Friedberg: Rachel Rosenthal
Directed By Michael Tolkin
Running Time: 112 Minutes.
Rated R (For Sexuality And Language)
Posted by

Camelia
at 8:13 PM
No comments:

Wednesday, October 03, 2012
Feng Shui Lucky Number of Fish in a Tank
In feng shui, numbers are always important and it's not different when it comes to the popular feng shui tool of fish. You can use fish either in a koi pond outside your home or in an aquarium inside your home. Both uses are auspicious.
Lucky Number of Fish in Aquarium
Most feng shui practitioners agree that the number nine is the most auspicious number, so it's no wonder that this is the favored number of
fish for your tank
or aquarium. The number nine is the number for prosperity, which symbolizes your wealth having a long life span.
Combination of Nine Fish
The best combination of nine fish in an aquarium is eight goldfish or Arrowana fish (often referred to as a dragon fish and is best used in a koi pond due to grown size of over four feet) and one black-colored goldfish (black moor).
With the combination of eight red and one black fish, the fish symbolize prosperity, energy and good fortune. The number eight is the major prosperity number for feng shui practices.
Purpose of One Black Fish
The one black goldfish is most important since its purpose is to absorb any negative energy that enters your home. The black goldfish therefore becomes a symbol of protection. If the black fish dies without any known cause, such as under-oxygenated water, overfeeding or lack of food, it is believed that the fish died from absorbing bad luck that was meant for you. In fact, many people believe that if any fish in the tank dies without a justifiable cause, then its sacrifice was to spare you the bad luck that was headed your way.
You want to always remove a dead fish from the tank immediately and replace it as soon as possible. There are many practitioners of feng shui who give their dead fish a nice burial and say prayers or mantras for them. It's common knowledge that black fish die more often than the goldfish; there are some biological explanations, such as the moor has poorer vision and cannot compete fairly for the food.
Number of Fish Based on Symbolism
According to feng shui principles, numbers play an important role in feng shui application. These roles include:
The symbolic meaning of the numbers based on how they sound when spoken in Chinese
The meaning of the number, using the interpretation of Flying Star School of Feng Shui
While these are two very significant aspects of number use in feng shui, it's not a common practice for selecting the number of fish to use in an aquarium. Based on the
symbolism associated with numbers
, you can have any of the following number of fish in an aquarium to attract the energies ascribed to each number:
One: New beginnings
Three: Growth and development
Six: Mentor luck
Eight: Money and abundance
Nine: Long life, considered the luckiest number
Any multiples of three (333, 888, etc.): Triples luck of number
Create an Auspicious Aquarium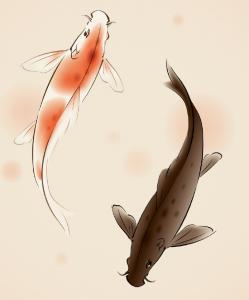 According to feng shui principles, adding an aquarium to your home or office is an excellent way to attract auspicious chi into your space, especially for good luck, abundance and prosperity. It is extremely important that a feng shui aquarium:
Is always clean
Has circulating oxygenated water
Is properly maintained
Has an interesting environment for the fish
Has a balance of the five elements of feng shui: Water, wood, fire, earth and metal.; elements can be symbolic
Is filled with happy fish living in a clean tank that are fed correctly, are healthy, and circulate positive energy
The most important rule for an aquarium is to keep the water clean. If the water becomes stagnant or dirty, the fish will not be healthy or happy. This type of unkempt aquarium attracts negative energy (sha chi) that can impact all areas of your life especially your wealth sector.
The Importance of Proper Placement
In addition to choosing the number of fish to care for in your
feng shui aquarium
, proper placement of the fish tank is very important. The purpose of an aquarium is to add or activate yang energy and this is done by the fish with their constant swimming. Water is yang energy, but its the movement of water that creates the yang energy. Generally, the best area to place the fish tank to activate prosperity and wealth is the southeast sector of your home.
A fish tank should never be placed in a bedroom, the kitchen, or in the center of the house. Both the bedroom and the kitchen are yin (passive) areas and a fish tank is very yang (aggressive). Since the bedroom is a room for rest, placing a fish tank there would create too much yang energy from the fish swimming around the tank. This would cause a very restless sleep. Placing the tank in the kitchen would also stimulate the yang chi energy too much, causing you to eat excessively. The center of the house is not a good location for a fish tank, either since according to the
Book of Changes
,
water in the middle of the house means you will have a lot of problems and difficulties.
Deciding on Number of Fish
The feng shui lucky number of fish in a tank or aquarium varies depending on your personal flying star chart and of course, the size of the fish tank. The simplest rule is to have eight goldfish and one black goldfish.
http://feng-shui.lovetoknow.com/Feng_Shui_Lucky_Number_of_Fish_in_a_Tank
Posted by

Camelia
at 9:03 PM
No comments:

Labels: Abundance, chinese, ecofren, ecofren cosmic blog, ecofrenlove, eight, fengshui, fish, goldfish, long life, money, Negative Energy, nine, tank
Psychic Attacks and Protecting Yourself
By Mary Kurus
Copyright Mary Kurus 2001 All Rights Reserved
Psychic Attacks and Dark Negative Energies
Psychic attacks are defined as the manipulation of supernatural energies and forces. Psychic attacks occur when dark and negative energetic vibrations are sent from one individual to another individual or place creating disturbances in the energetic and physical bodies of the person or place. This negative energy can be called a spirit, an entity, a thought form or a dark negative energy. Each of these energies can create harmful effects within the person receiving them.
Not everything that's considered difficult in a persons life is the result of a psychic attack, but psychic attacks do happen and they happen more often today than ever before. You will hear some people say that negative energies and psychic attacks don't exist and cannot happen if you don't believe in them or give them energy by paying attention to them. This is not true. Problems can and do happen as a result of negative energies and psychic attacks. Recently mothers have contacted me about their teenagers who are practicing bits of black magic wanting to know how to help their children. There are disadvantages as well as advantages to Harry Potter.
Mother Earth and all of us who live on her are surrounded by many mysterious, supernatural and beautiful energies, including intelligent energies, angels and guides. We are affected by the energies of all the planets including the Sun, the Moon, other planets, asteroids and stars. At the same time we are also exposed to many negative energies, entities, spirits and intelligent energies which can affect us in so many different ways.
Ancient Societies and Psychic Attacks
Societies from ancient times to the present have worked with psychic attacks and dark negative energies. The African and Haitian people practice voodoo and black magic. North American and European cultures practice black magic and witchcraft. Indian, Chinese and South American tribes have similar practices. Australian Aboriginals practice something called "pointing the bone". Similar practices are recorded from ancient times and continue to be practiced today in all societies. In medieval times they burned people for practicing witchcraft.
Psychic Attacks - What Are They?
Psychic attacks involve the manipulation and movement of different types of dark energies, entities and spirits. They involve the transferring of dark and negative energies into someone's physical and/or energetic bodies. Some of the dark energies and entities that find their way into physical and energetic bodies, and homes are sent without awareness, even though they are sent by humans. Others are sent intentionally to create harm and damage, often to control, manipulate or punish the individual. They can involve ritualistic techniques or ceremonies or use the psychic powers of the mind or a combination of both.
It's difficult for anyone to penetrate an aura that is healthy and strong. Auras are weakened by repressed emotions, negative emotions, through the regular use of drugs and alcohol, through smoking cigarettes and a variety of diseases. The physical presence of fungus, parasites, worms, or metal, chemical or atomic poisons can seriously weaken an aura. It's important to understand that all illness begins in the aura and then eventually moves into the physical body. Therefore the care and protection of your energetic body is as important as the physical body so you can repel psychic attacks and stay strong and healthy.
Intentional Psychic Attacks, Spells, Curses, Voodoo, Witchcraft
The dark and negative energies sent intentionally by others are called psychic attacks and can seriously affect humans and animals at a physical, emotional, mental and spiritual levels. Psychic attacks can include spells, voodoo, mantras, invocations, negative energy rays, or other types of black magic. They attack psyches and can produce debilitating effects on the overall health and energy level of the affected person.
Dark Spirits and Entities
There are dark spirits and entities that can move into physical bodies and auras affecting what people think, speak, do, desire, and feel. The human who is invaded by these spirits or entities can take on the physical attributes, illnesses and behavior of the spirit or entity occupying the person to such a degree that there appears to be a complete personality change.
Negative Thought Forms
Another major type of dark negative energy that can be sent to others is through negative thinking, anger, wishing harm to others, jealousy, animosity, seeking revenge, vindictiveness, or other forms of thought that are based in anger, rage and fear. These are called thought forms and they can be lodged in a persons body or various layers of their auras causing a wide range of physical, emotional, mental and spiritual difficulties.
Degrees of Strength of Psychic Attacks
Psychic attacks and other dark negative energies, entities and spirits can have a wide range of effect from low to medium to high. The symptoms or changes in health or behavior can also range from low to medium to high. Not all health problems or behavior changes are caused by psychic attacks since there can be so many causes for the same symptoms. Confusion often exists when other physical and emotional difficulties are present in an individual's life. It's important to carefully assess all possible sources for the difficulties including physical factors, energetic factors and emotional factors.
Can We Draw Dark Energies To Ourselves?
We definitely can draw dark energies, entities and spirits into ourselves without any influence whatsoever from external sources. Prolonged states of anger, rage, resentments, bitterness, vindictiveness, and many types of fears, will draw and attract these negative energies. It's normal to get angry or fearful when things happen in our lives. These occurrences do not draw the dark side in to us. It's the long-term and prolonged states that set up the energetic attraction. Ongoing repressed negative emotions can eventually turn into a certain type of entity.
Violence of all types, physical, emotional and mental is a very powerful draw for negative and dark types of energies. The regular use of drugs and alcohol also draws these types of energies. Now one glass of wine is a social habit and does not affect our energy fields. However, when we become drunk, be it from alcohol or drugs, our auras becoming weakened substantially and negative invaders are attracted to the energy set up by this state. Smoking also greatly weakens the energy field and leaves us very vulnerable to negative influences.
Symptoms of Psychic Attacks and Dark Energies
There are many different symptoms that can indicate negative and dark psychic energies, spirits or entities. The following list identifies a few major symptoms. But these symptoms can also indicate other types of health problems and it's important to investigate all possibilities.
Suddenly acting totally out of character
Major changes in behavior for no reason
A loss of memory
Major changes in clarity of thinking or analytical ability
Sudden ongoing fatigue for no apparent reason
A drained feeling
Icy cold feeling on part or all of your body
Hearing someone's voice regularly
Hearing voices
Recurrent or frequent nightmares
Strange or recurring accidents
Feeling someone is watching you
A discomfort or fear in a specific room or area in your home or office
A loss of self-confidence
A sudden loss of energy
Sudden illnesses that elude diagnosis
Sudden illnesses that cannot be explained
Feeling someone touch you or bump into you when nobody is present
Sensing a presence · Sensing a large pair of eyes watching you or following you
Sudden or irrational difficulties with finances or relationships
Imagining monsters, animals or frightening shadows
Sudden depression without an apparent cause · Seeming ongoing bad luck
Visions or hallucinations
Irrational fear, anger or sorrow
A negative obsessive thought, desire or fetish that won't go away
This is not a complete list but should give you a fairly good idea of areas to look at in the physical, emotional, mental, or spiritual areas. Each person who is on the receiving end of psychic attacks or dark energetic forces will have their own indications and effects. If you are not certain please consult with an experienced energy worker knowledgeable in identifying and clearing energies from different types of psychic attacks and dark energies.
How Do You Pick Up Negative Energies, Entities and Dark Energies ?
Negative entities, spirits, and dark energies can be picked up almost anywhere where negative people, emotions or thoughts exist. They are drawn to negatives. Therefore you can pick these up at meetings, in stores, at any type of gathering, or in your own home. At times when individuals have suffered prolonged pain in a certain place, the energies of this pain can remain there even though a person has left that place.
Negative entities, spirits and dark energies are strongly drawn to individuals who use drugs and alcohol. When people get stoned, their auras get weak and these negative entities and energies can easily penetrate into a persons aura or body. Humans are quite defenseless when they are stoned.
Smoking cigarettes or any other type of drug seriously weakens an individuals aura making them quite vulnerable to the entry of negative entities, spirits, and dark energies. Smoking eventually creates holes in an individuals aura so that their vital energy can seep out making them feel fatigued as well as making them vulnerable to negative energies.
Negative energies can be absorbed or can attach themselves to objects during the process of being made or by resting somewhere where negative energies exist. If you have the opportunity, ask an experienced antique dealer to tell you some of their stories about negative energies in antique furniture.
Negative energies can attach themselves to an object when it's being made or just by where is lives. These can be very difficult to eliminate. This past Christmas I received a gift of a small box as gift given in love. One day as I was checking my desk I realized that negative energies were attached to this little box. They had attached themselves from dark energies in the store they were sold from. I placed the box in the sun but that was not sufficient to clear the box. I then washed it thoroughly with soap and water and then placed it in the sun again and that finally cleared the box. It is much more difficult to clear old energies from antique pieces.
Sex and Negative Energies, Entities and Spirits
It's important to look at sex as an exchange of energies, entities and potential vulnerability rather than from a moral perspective. When you have sex with another human being you absorb their very essence mixing it with your own essence. You literally absorb their good stuff as well as their bad stuff.
If you have sex with someone who has negative energies, entities or spirits, it is almost guaranteed that some of this negative energy will be transferred into your body and/or aura through the physical act of sex. It's very important to ensure you want to absorb the very essence and energetic elements of the other person before having sex with that person. The more sex partners you have, ensures the greater diffusion of your own very special essence. It amounts to not being quite yourself anymore.
A client told me the story of her father who had an affair with a neighbor who happened to be a Wicca witch. This lady conducted many ceremonies and cast many spells. After a period of time, this man, his wife and their children were all invaded by negative energies and entities. Be careful of the company you keep.
How To Eliminate Psychic Energies
There are a variety of methods available for eliminating dark and negative energies, entities, spirits, and thought forms. The following will give you many ideas of things you can do to help yourself. It will also help you to ask an energy worker the right questions if you need help to eliminate energies through psychic attacks.
You will read many different methods and find a wide spectrum of suggestions regarding clearings. Some will even suggest that it's important to know who has entered your body or aura whereas others do not believe this to be important. Personally, I don't think one needs to spend time identifying the characteristics of the invading energy. What's important is to know how to clear and protect yourself and your home.
The following are a number of methods you can use, normally in combination, to ensure you get clear and remain clear. There is no perfect solution that can be applied to every psychic attack. What someone could need would depend on the power and strength of the psychic attack or dark energy, and the present state of the individual who has absorbed this energy.
An Energy Practitioner Experienced in Psychic Attack Clearing
If you believe you are absorbing negative energies or are the recipient of psychic attacks, you should seriously consider asking for the help of an energy practitioner who is experienced in the identification, clearing and elimination of psychic dark energies, entities and spirits. If you believe that spirits, entities or hard dark energies have penetrated your body or aura, please ask an energy worker for help. Many dowsers are quite knowledgeable on reading energy fields and can be very helpful in identifying if you have different energies in your auras, body or home. It's important to identify and eliminate these as soon as possible but please don't try to do this yourself. You might even draw more negative energies to yourself if you attempt the clearing yourself and exacerbate the situation.
There is always a strong need to protect a home and individuals close to the person who's been invaded. Someone experienced in clearing will know how to protect everyone, including themselves.
The method or combination of methods to be recommended by the energy practitioner will depend on the strength of the psychic attack, whether its accidental or intentional, and depending on the individual who has absorbed this energy.
Smudging With White Sage
Smudging with white sage is an ancient custom of North American Indians who have used and continue to use this method for clearing unwanted energies. You can purchase dried white sage in a variety of shops today or you can grow and dry your own white sage.
It's important to clear yourself each day and to clear your home and car at least once a week as a normal maintenance procedure. Today most people are exposed to many negative energies in their workplaces, in stores, restaurants, and almost anywhere they go. Anyone can pick up negative energies by just walking around.
People who work in close quarters with others, and this includes teachers, nurses, physicians, therapists, factory workers, energy workers, office workers etc., need to smudge and clear daily. Some of the negative energy carried in one persons aura can easily flip into your own aura, eventually causing illness. Daily smudging is a powerful clearing tool to use on yourself and your office to keep your energy field clear of "accidental" energy transfers. Unfortunately, this is normally insufficient for "intentional" psychic attacks.
To smudge just do the following. Take a bowl about 4 or 5 inches in diameter and place a few inches of sand to cover the bottom of the bowl and to protect the bowl from heat. Place a few leaves of white sage on the sand and light the ends or edges of the leaves. Once the leaf is flaming well, blow out the flame and leave the leaf to smoke. This smoke is what is called smudging.
Pass the smoke over your head and all around you a number of times. If you are smudging your home, close all the windows and doors and pass the bowl with leaves smoking around each room, into corners, up to ceiling corners, and into closets and cupboards. Leave the doors and windows closed for a few hours. This smudging can dissolve or eliminate many negative and dark energies, entities and spirits from your home.
You can grow your own white sage plants and in late fall cut the branches into small clumps and dry them thoroughly. Once the clumps are dry, put the white sage in plastic bags and enjoy smudging throughout the winter. I energize the bunches while they are drying for added potency in clearing. To grow your own white sage plants, contact a Canadian herbal firm called Richters who sell high quality white sage plants. You can reach them at
www.richters.com
.
Black Obsidian, Black Tourmaline or Pyrite Spray and Essences
You can make a spray by taking two teaspoons of the Choming Concentrate of either Black Tourmaline, Black Obsidian or Pyrite and mixing it with one cup of water. Then carefully spray your aura, or your home or office with this spray. This works in the same manner as the smudging, by dissolving or eliminating dark energies, spirits, or entities. These sprays are powerful protectors.
A Rock Shop Owner's Story





The owner of a rock shop recently told me a story about her experience with black tourmaline. She had been having many individuals with dark energies coming into her shop and decided to use black tourmaline to keep them out. She placed a grid using black tourmaline in her shop doorway to keep out these negative energies. Well not only did the negative energies not enter her shop that day, but she found that nobody entered her shop that day at all. She learned an important lesson about black tourmaline. But it's a powerful gem for keeping negative energies and beings away from you.



Black Obsidian and pyrite are just as powerful as black tourmaline but are more porous and allow good and loving energies to flow both ways, while protecting and keeping all negative energies away. Black Tourmaline tens to keep everything away. Mahogany and Rainbow Obsidian Gem Essences are powerful in eliminating negative energies caused by jealousy.
Just be careful not to mistake using a Black Obsidian, Black Tourmaline or Pyrite Gem Essence rather than the Mother Essence of these gems. Gem essences are not sufficiently potent to be diluted and used as a spray. Be certain to ask for the Mother Essence Concentrate for making a spray. I provide this and can be reached through my website at www.mkprojects.com.
The Black and Mahogany Obsidian Essences, the Black Tourmaline Essence, and the Pyrite Essence, can be very effective in clearing out negative energies lodged in bodies and auras. But the degree of clearing they can effect will depend on the type and strength of energy that has entered a body, aura, home, or office.
Black Obsidian and Black Tourmaline Gemstones
These gems are powerful protection to use just by carrying them in your hand or pocket. If you are going to be in environments where there is much tension, conflict, anger, manipulation or control, it's a good idea to keep one of these stones in your pocket.
Remember that if you keep it in your right hand or pocket, you are releasing and helping to release negative and dark energies. If you keep it in your left pocket you are drawing in energy to help you eliminate negative and dark energies. Anything held on the left side draws energy and anything on the right side releases energy.
If you carry these gemstones daily, they need to be rinsed under running water each morning to wash the negative energies they have absorbed. As you wash them state your intention to the Universe to cleanse them of negative energies. About every third day, place the stone in the sunshine and moonlight for 24 hours so that the gem can be re-energized. This is essential for the stone to continue working effectively. Gems are energized under the sun and moon. Some people suggest putting gems into salt water for cleansing but I consider that to be extremely harsh and severe, and lacking in love and caring for the gem. Running water, the sun and the moon are the perfect combination.
Tibetan Incense (made in Nepalese monasteries)
There is an incense made today in the monasteries of Nepal by Tibetans that is so pure that it can dissolve negative energies in your auras and home. This incense is made by hand in accordance with Tibetan traditions preserved through the centuries within the monastic orders of Tibet. It's made in the traditional Tibetan manner with 35 different spices and aromatic substances including nagi, saffron, and red and white sandalwood. This incense is now being made by Tibetans in monasteries in Nepal and can be purchased throughout the world.
It's important to know that incense, essences essentially anything made by machine loses much of its vibratory healing power and does not produce the same clearing or healing effect as incense or anything else made by hand.
Grounding - Being Fully Present in the Moment
Whenever you are thinking or trying to cleanse yourself of negative and dark energies, first ground yourself so you are deeply connected with Mother Earth. Sit down comfortably with both feet planted on the floor, and if possible, right on the earth. Imagine a thin silver cord that runs from the center of your being or from each of your ankles, way down to the center of the earth, right into the middle of Mother Earth. Hold this visualization until you feel deeply connected with Mother earth. This is an important beginning to many types of work with other dimensions. You want to connect with the majesty of other energies in other dimensions while remaining deeply connected to this beautiful planet of ours.
Certain gem essences are very effective in helping you stay grounded, centered and connected to the present moment. For purposes around psychic attacks I recommend Amber, Hematite or Zincite Gem Essences( www.mkprojects.com). Of course I consider Choming Essences that I make myself to be most effective.
If you like the feel of gemstones themselves, hold any of these gems in your right hand or right hand pocket for good protection. Please choose the shop where you purchase gems carefully. There are various qualities of gems and some have very little energy and therefore cannot provide any protection.
Spiritual Clearing of Intent
One of the most complex but most effective methods used to help clear yourself, your home, friends or pets is through the following meditative Spiritual Clearing of Intent. It is imperative as a first step that you call in SPECIAL PROTECTION for yourself. Please DO NOT try this clearing unless you are accustomed to working with intelligent energies from other dimensions and know how to protect yourself. If you try to clear someone with entities or spirits in their body or aura and do not protect yourself properly, the entities and spirits are almost guaranteed to flip into your body and aura and then you have the problem as well as the other person.
To clear yourself or someone else with intent, seat yourself in a very comfortable chair and close your eyes. Please ensure that you are coming from a place of love for all energies, including the negative psychic energies, when conducting this clearing. Once you are fully relaxed, connect with the intelligent energies of other dimensions and ask for protection from the Universe so that whatever is being cleared cannot find you or go into others. Then establish a cone of white light with another dimension so that the negative energies, entities, spirits that are being cleared can follow this lighted cone up into the Universe. Then ask the Universe to remove all negative energies, entities and spirits using the name of the person being cleared and ask the angels of the Universe to move this darkness up into the cone of light so they cannot harm anyone or anything else on this earth. Hold this thought and cone of light for a few minutes. You need to be able to hold this deep concentration for some time for this clearing to work.
After a number of minutes thank the Universe for its help and close down the cone of light. The critical factor with this clearing is the ability to connect with the energies of other dimensions. I estimate that only a few energy workers have the real ability to truly connect with intelligent energies of other dimensions to conduct this Spiritual Clearing of Intent. The Spiritual Clearing of Intent will not eliminate the psychic invaders if other dimensional intelligent energies are not connected with since they do the work. The energy worker is simply the instrument of connection.
Prayer and Connecting With Other Loving Spirits
People get very frightened when they believe they have been attacked psychically. They feel helpless and violated and without the necessary knowledge or skills to help or protect themselves. Fear is one of the greatest problems associated with psychic attacks since fear tends to magnify and intensify the experience of the person.
Prayer is so powerful and can help immensely when dealing with psychic attacks. If the person who has been attacked can pray to the God of their understanding for strength and courage, their fear should slowly abate and they will be better able to concentrate in applying a number of the suggestions for clearing that I make in this article. Positive prayer in love strengthens individuals to deal with their issues. Ask others to pray for you also as you go through this difficult experience. There are special convents and monasteries with sisters who do nothing but pray each day. Call them and ask them to pray for you as a special intention. Believe me, prayer works and needs to be part of the healing process.
For those who believe in the spirit world, ask those who are in other dimensions to guide you and help you through this experience. They are there and just need to be asked. Ask the highest of spirits and guardian angels to help you as part of this healing process for you.
Releasing Fear
Those who have been attacked need to release their fear and prayer and meditation is one of the simplest and most powerful supports for releasing this fear. It is much easier to get clear and stay clear when the fear is diminished.
Container Dissolving Method: The following manner of releasing fear takes some practice but it really works wonders in releasing fear. Close your eyes and slowly gather all the fear inside your body and put it all into one place, your solar plexus area. Take lots of time to ensure you gather all the fear into one place. Then build a soft-sided container to hold all this fear, a container than can expand or contract depending on how much is inside it. Concentrate on this container and keep shooting rays or laser beams of white light at it. These beams will break the fear into very small pieces. Then hold your hands out and imagine all the tiny pieces of fear running out of your body, your finger tips, your eyes, your ears, until all the fear is gone. Keep seeing the fear release from your body until the container is empty and disappears.
Deep Breathing: Another simpler way of relaxing and releasing fear is through deep breathing. Sit or lie down so that you are relaxed. Begin by inhaling on a count of 5 then hold this breath to the count of five and then release this breath to the count of 5. Take a break to the count of 5 and begin the inhalation again. Do this slowly and you should find that you begin to relax after about the sixth or seventh breath. If possible, continue this exercise for 10 minutes to achieve deep relaxation. You might consider doing this exercise prior to the container method I just described above.
Protecting Visualization Techniques From Anger or Revenge
This technique works particularly well when others are angry with you and are sending you angry or vengeful thought forms. The person can be very angry, cursing you and wishing you harm. They probably do not realize that they are sending you these thought forms that can lodge in your body or aura. You may hear their voice in your mind, see a blurry vision of them speaking to you in anger, or just be feeling very uncomfortable. Do you remember the many times when you had angry conversations with someone who was not present? You may have thought you were talking to yourself but in reality you were sending out angry thought forms when you did this.
The following is a visualization I have used many times that has worked well when used properly. Visualize that you are where you are and this other person is about 100 yards away from you. Then visualize a Plexiglas wall that drops between the two of you. This glass wall is about four to six inches thick and is such that anything loving can penetrate this wall easily, while negative images or thoughts cannot be heard through this wall or in any way penetrate this wall. Hold the image of this wall and I guarantee you that the angry voices and images will disappear almost immediately. This will give you real protection from angry thought forms so they cannot penetrate or lodge in your body or aura.
Surrounding Yourself in White Light
White light is the light of love and using this practice can help with minor negative energies. You can surround yourself with white light and feel the presence of a Loving Universe. However, this white light often does not keep out the heavier dark energies and normally does not keep out entities and spirits. It's a good practice to connect with the Universe but not very powerful in protecting you from certain energetic practices.
Cleansing and Rebalancing of Auras and Chakras
You will need to ask an Energy Worker to do this for you, but if you have been on the receiving end of a psychic attack, your chakras will be distorted by these energies and no longer working properly. You will also have holes in your auras. Ask an Energy Worker to bring your chakras back to their perfect shape, to ensure they are spinning properly and at the perfect speed and to close the holes in your aura.
At times part of a psychic attack could include attaching cords, hooks and even placing nails in the midriff area. Ask the Energy Worker to clear all hooks, attachments, markings, and any negative energy rays that might have become attached to you.
Ask the Energy Worker to seal your aura, to eliminate all holes in your aura, and to make certain your aura is not leaking in any way. They should be checking you at a distance for two or three days after the sealing to ensure there are no leakages.
Personal Affirmations
As you think so you will behave - that's so accurate. You need to adjust your belief system so that you will believe that you will be safe and have the overall feeling of the love and protection of the Universe. An affirmation is a statement you make from the bottom of your heart, with deep felt emotions, stating the effect you wish to experience. For safety from psychic attacks you could say "I am safe and totally protected by the Universe from all energy that is not for my highest good". Or you could say "I will draw to myself today the powerful loving and protecting energies of the Universe".
Protecting Yourself Against Psychic Attacks
The following is a summary list of things you can do to protect yourself from psychic attack:
Clear your aura with white sage or Tibetan incense on a daily basis.

Regularly spray your home with Black Tourmaline, Black Obsidian or Pyrite Essence Spray

Keep a loving and caring attitude towards others

Keep yourself grounded with cords to the center of Mother Earth or use Gem Essences to keep yourself grounded. Amber, Hematite and Zincite Essences and gemstones are powerful for grounding.

Include time for prayer and meditation on a daily basis.

In your daily spiritual practices, include positive personal affirmations for your overall comfort and safety.

On a regular basis, ask an Energy Worker to clear all attachments, markings, or negative rays that have become attached to you. Also ask this person to ensure your chakras are operating at optimum efficiency.

If you are able to connect with energies of other dimensions, clear yourself of all negative energies, entities, spirits, attachments, markings and negative rays using the Spiritual Clearing of Intent.

When required to spend time with individuals who are in conflict, make a practice of keeping a black obsidian, black tourmaline or pyrite gemstones in your right hand pocket. Be certain to cleanse and re-energize the stones.

Practice deep breathing exercises when you become fearful and anxious.

When in doubt, call an Energy Worker to work with you to help you clear negative and dark energies and psychic spells.




http://www.mkprojects.com/fa_PsychicAttacks.htm
Posted by

Camelia
at 8:58 PM
No comments:

Benefits
Biofield (aura as shown through Kirlian photography) of a woman before wearing the Energy Stone and after 20 days of wearing the Energy Stone.
The aura pictures show that the aura radiation is more intense and more even. This shows that the vital energy of the body is increased.
http://biochipendants.blogspot.com/p/benefits-report.html
Benefits of healthy ion exposure are known to include:
Enhanced cellular hydration
Reduced inflammation
Easing of pain from aches, headaches, old injuries, and arthritis
Unclumping of red blood cells for increased cellular oxygen
Enhanced circulation
Enhanced immune and endocrine systems
Increased ability to destroy viruses and bacteria
Enhanced cellular nutrition and detoxification
Increased energy
Increased protection of DNA from damage
Deceleration of the ageing process
Enhanced resistance to the formation of cancer cells
Increased focus and concentration
Strengthening of the body's bio-field preventing electromagnetic waves from affecting one's health
Properties of Scalar Energy
The characteristics of Scalar Energy are that of being non-linear and non-Hertzian. This energy form has the capacity to carry information. It also does not decay with the passing of time or distance.
Scalar Energy cannot be measured by contemporary frequency instruments as it is depicted to be without frequency. This energy form is static, a stationary form of energy. When two similar frequencies coming from opposite directions meet, they cancel each other out. The Bio Chi Pendant is made of lava composed of 70 or more minerals that have been fused together through volcanic heat and reheated through nano fusion technology. This results in a stationary energy form – Scalar Energy.
The traditional understanding of energy is that it flows out in the form of waves. However, Scalar Energy does not radiate as waves but expands outward in circles of energy. This vibrant and dynamic energy field radiates a network of harmoniously balanced energies.
Scalar energy can be created naturally. It is always existent in the universe. By applying the conditions required, Scalar Energy can be created artificially.
Scalar Energy and the Nervous System
It is a commonly accepted fact that the brain works with the nervous system to control the various functions of the body's organs and systems. The nervous system is extremely sensitive to electromagnetic frequencies (EMF) from the environment. Most electrical equipment (e.g. television, computers, mobile phone, microwave) radiate 60 HZ frequencies and is able to interfere with the proper function of the nervous system.
High voltage cables also emit EMF that have a negative effect on the human body. There is growing evidence in the medical field that links diseases like cancer and Alzheimer's with these man-made EMF. Medical investigations and studies are also pointing out that symptoms such as headaches, lack of concentration, depression, hyperactivity in children, sleep disturbances and others could be the result of EMF.
Scalar Energy's expansive and circular movement offers a field of protective shield around the body. This protective shield removes and cancels the effects of man-made frequencies (60 HZ) on the human body. This is achieved by enhancing the body's natural defenses against the damaging radiations coming from the various household and industrial appliances that surround us.
The brain has its own vibrations. The human brain uses these vibrations to communicate within itself and with the rest of the body. There are 4 classifications of brainwaves – Beta, Alpha, Theta and Delta. Scalar Energy is able to promote Alpha wave frequency in the brain. The brain then resonates at the same vibration as the earth's energy field and is able to amplify these vibrations. If this frequency is transmitted throughout the body, this could assist the cells in the body to achieve a particular resonance which is essential to optimum health. Scalar energy also promotes a mind that is relaxed, more coherent, focused and sharp with improved clarity.
Posted by

Camelia
at 8:36 PM
No comments:

Labels: aura, biofield, chi pendant, cosmic, Deceleration of the ageing process, ecofren, ecofren camelia, ecofren cosmic blog, energy, immune and endocrine systems, lava, scalar energy